Well, That's Not Good
Disaster Strikes As Catastrophe Looms!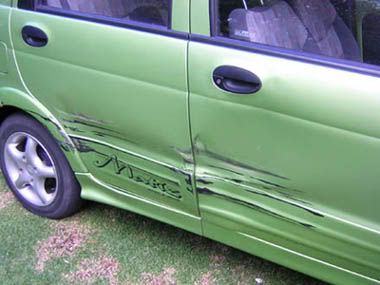 Instead of going through my normal routine and flying to university with my trusty magical umbrella, I decided today that my transportation would be handled by the offensively colored lump of metal which is commonly referred to as "car". As you can see above, my decision was clearly in error, producing results that are less than satisfactory. Now, the damage may not seem as extensive when captured by a camera and reproduced on a monitor, but believe me that those dents are quite nasty, especially when you take the size of my "car" into account.
It's awfully small. There are many times where I'll just be driving along, only to have the sun become mysteriously blocked out and an ominous shadow envelop all that I can see. Far from being a mysterious supernatural event, a glance upwards quickly reveals the underside of a truck driving right over me, my vehicle quaintly slipping beneath its hulking steel body and between its towering tires. There is a positive side to all this, however, as in the situations where I'm unable find parking I can simply slip my "car" into any moderately sized backpack and take it with me. So you see, those dents are rather noticeable. They're like majestically deep valleys, yearning to be explored with vigor and loads of hiking equipment. Only the hands of a good panelbeater can reunite the roaming hills with the green earth and...well, you get the idea.
Despite its shortcomings, my "car" didn't really deserve to be assaulted in such a manner. The driver of the attacking vehicle was polite and admitted that he wasn't paying attention (a fundamental part of driving, I must point out) when he turned into the parking lane and consequently T-boned me, but that's not going to stop me from at least vilifying his car...
Its eyes were burning with crimson flame and it belched thick plumes of asphyxiating smoke as it bore down upon my completely unaware car.... Right before the impact, it let out a terrifying laughter, one laced with the sounds of creaking pistons and screeching windscreen wipers!
It was quite unsettling as I heard my feeble "car" bending in new and original ways. And speaking of settling, this guy is supposed to be paying for the damages, what with it being his fault and all. Insurance isn't going to cover it though, since they don't cover accidents that take place within parking terrains. I guess that means I'll simply have to try harder and have
a real accident
.
In videogaming news, I'm currently counting down the minutes until my download of the
Tom Clancy's Splinter Cell: Chaos Theory
single player demo completes. Not only is it an innovative continuation of a fantastic series, it also sports shiny graphics of a calibre that will make grown men weep tears of joy. Grab it for yourself
over here
.