Kleptomaniac Robot Boy
For the last few days, I've been playing the
Xbox
version of
Mega Man Anniversary Collection
, a perfectly emulated compilation of the Blue Bomber's side-scrolling exploits. It's been an interesting trip down memory lane, most of all in how this particular lane is filled with bottomless pits, floating platforms and ludicrously named robots intent on putting an end to my feeble existence. The gameplay is as enjoyable and challenging as ever, though the many pixel-perfect jumps required can sometimes lead one to think that "frustrating" and "sadistic" would be more appropriate words to use.It's all part of the charm though, as struggling to get past a certain point and finally getting it right is always immensely satisfying. All you need is some
perseverance
,
patience
and...
third thing starting with "p"
.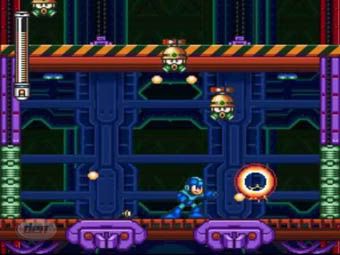 It's amazing how much of this stuff you can remember. I expect this is largely to blame on all the time spent playing these games on the NES, minus the luxury of a save function. You got three lives and you were happy with that. Once they were gone, you'd go right back to the start of the level. The constant repetition of attempting and failing quite clearly represents a form of brainwashing, with useful tactics and boss patterns being engraved into the darkest recesses of the human brain for all eternity.
Apparently, that's an effect similar to what the
artists
(and I use that word with the utmost trepidation) behind the cover art for the original Mega Man release had in mind. If you value the sanctity of your mind, you will cast your eyes on something more pleasant...like the severed head of a squirrel or a burning train-wreck (or a combination of those).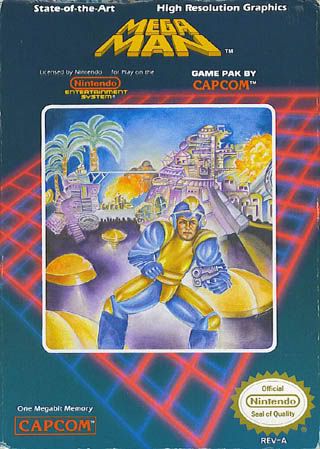 This is the kind of thing that makes you wonder why certain human beings are allowed to continue their existence and it casts the very future of humanity in a dim, constantly flickering light. I don't even know where to begin. Perhaps I should make the astute observation that the gun-wielding freak pictured above is most certainly not Mega Man. The uncomfortably strange pose and vacant facial expression leads me to believe that this is, in fact, Seizure Man. I could also discuss his ridiculous helmet, frighteningly collossal shoulders and brightly colored codpiece...but I suspect it would be safer not to. This catastrophic illustration is either the result of a tragic misunderstanding or a critical mass of apathy.
"I just received our next assignment! It's from this obscure, Japanese company called Capcom."
"Oh? What is it that they need?"
"Well, they want us to put our considerable artistic skills towards an enticing cover for this new videogame."
"Videogames? I'm not really familiar with that territory."
"Relax, it's for kids. They don't care."
"Well, shouldn't we play the game first? To learn what it's about and draw, you know, inspiration? And stuff?"
"Friend, that attitude will get you nowhere. We have the title. MEGA MAN. That's all we need. We get inspiration from LIFE."
"That doesn't say much at all."
"Sure it does! For one, we know it's about a man."
"That narrows it down."
"Actually, it doesn't, but that's where we get to the next part."
"I was being sarcastic."
"So, he's a man, right? But he's also...MEGA."
"What's that supposed to mean?"
"It means what it means. He's MEGA. He's really, really good."
"Good at what?"
"Being MEGA...MEGA-licious! MEGA-tastic!"
"You are destroying the English language. Stop. Please."
"Are you drawing anything yet?"
"I...fine. He's a Mega Man. What else?"
"He has a gun."
"What? Why does he have a gun?"
"Dude, you're not listening. He's MEGA. Mega Men have guns. It's been like that all through the ages."
"You can't draw conclusions like that!"
"Drawing! That's what you should be doing!"
"This won't end well."
Actually, it went well enough to warrant this additional abomination: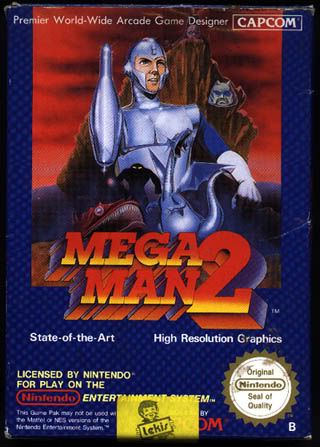 WRONG
. I can only feel pity. Pity for the guy in that ridiculous costume, pity for the dragon that mistakenly wandered off its generic fantasy game cover and pity for whoever approved this piece of garbage.
"Okay, we're doing the cover for a game called Mega Man 2. Is anybody familiar with that?"
"Yes! I played the first game. Man, Iceman's stage was tough, what with all those flying platforms. Good thing I had the Magnetic Beam though, it was really -"
"I need you to stop being a geek now. Tell me what it's about."
"Sure. It's about this boy robot that -"
"Wait a second...boy robot?"
"Yes."
"I thought it would be about a man...a mega man."
"No, Mega Man is a boy robot."
"That doesn't make sense. I don't believe you."
"It's the truth. See, he has to fight evil robots, like Cut Man, Spark Man or -"
"So...he's fighting other men?"
"No, other robots."
"Then why isn't it Cut Robot or Spark Robot?"
"Anyway, he has to steal their powers from them."
"Steal? Is this something we want children exposed to? Rampant klemptomania?"
"Well, that's just how Mega Man is."
"But he's not Mega Man...he's Kleptomaniac Robot Boy!"
"I don't think you're following."
"Damn right! What are these Japanese companies pushing off on our fine American children? We're putting a goddamn MAN on the cover. And a dragon for good measure."
And with that, I'm off to fight Clown Man and Search Man. Yeah, Capcom pretty much ran out of good names after Mega Man 4.